Little Owl Rescue (Little Animal Rescue) (Paperback)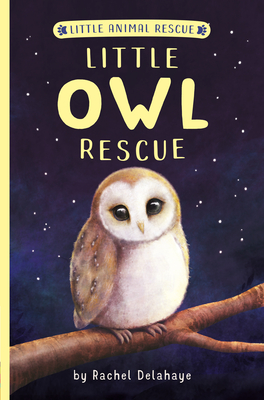 Description
---
In this latest installment of the new chapter book series Little Animal Rescue, what starts out as a day at a carnival and a ride on the flying swings for Callie and her friend Gabriel ends up becoming an adventure for Callie when she is magically whisked away to Texas, where she finds an abandoned barn owlet. Includes black-and-white illustrations throughout.

One night at the carnival, Callie and her friend Gabriel decide to go on the flying swings. As they spin higher and higher in the air, Callie suddenly feels huge gusts of wind, and she can't see anything in front of her. When the ride stops, she finds herself alone on an expanse of farmland. She knows that she has been brought there to help an animal, and soon, she discovers a barn owl family. Then the mother disappears and leaves an owlet behind! Knowing she must do something to help the baby bird. Callie leaps into action. But with night closing in and dangerous animals all around, Callie will need her tiny friend's help as much as it needs hers....

In the Little Animal Rescue series, join Callie on her magical adventures to rescue wild animals in danger all around the world!
About the Author
---
After studying linguistics, Rachel Delahaye began a career in print journalism. She has worked in London, England, Sydney and Melbourne, Australia and now lives in Bath, England. While she has vowed never to move again (well, not for a little while), her imagination has refused to settle down, and she is now writing children's fiction. Rachel is married with two children and a dog named Rocket.

Suzie Mason is a digital illustrator who works from a little cottage in the Midlands of England, where she lives with her husband and ball-of-fuzz kitty. She loved art as a child but ended up following a scientific path, studying Astrophysics and then Medical Imaging. Suzie could never shake the art bug however, and in her mid twenties she began to learn digital art, which she had always admired. Realizing that art what was she wanted to do with her life, she became a full-time artist in 2017.
Praise For…
---
The third volume in the Tiger Tales series Little Animal Rescue; children ages 6-9 will fully enjoy joining Callie in Little Owl Rescue -- a magical adventures to rescue wild animals in danger all around the world! A fun read from first page to last, Little Owl Rescue is perfect for family, elementary school, and community library chapter book collections for young readers. --Midwest Book Review