Discovery: Shark Spotter's Guide (Exploration in Action) (Mixed media product)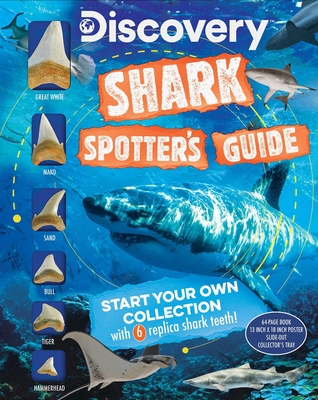 Description
---
In addition to tons of captivating photos and fun facts about sharks, this book also includes replicas of six different shark teeth to help get shark-loving kids started on their own collection!

In this detailed reference book with stunning photos, kids will discover tons of fascinating facts about sharks, some of the most fascinating fish that swim in the world's oceans. They'll learn about ancient sharks, the nine different groups of sharks that are alive today, and meet some amazing individuals, including the great white shark, the mako shark, and the hammerhead shark. Then readers can use the shark-tooth collecting tips and six different replica shark teeth to get their own collection started. There's even a slide-out tray for housing future finds. A full-color shark identification poster is also included.
About the Author
---
Ruth A. Musgrave is an award-winning children's writer specializing in marine and animal science. As director of WhaleTimes, Inc., she's explored the deep ocean, interacted with gray whales, kayaked with sharks, and been part of many exciting research expeditions. Musgrave shares her love of animals, the ocean, and ocean exploration through her freelance work. Ruth is the author of 35 books, including National Geographic Kids' Everything Sharks and Mission Shark Rescue, and BBC Earth's Do You Know Underwater Predators.