Bear Out There (Hardcover)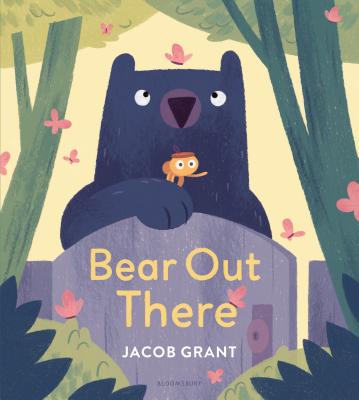 Description
---
Bear and Spider are back in another charming odd-couple friendship story, perfect for fans of Peter Brown and Greg Pizzoli.

Bear's favorite place is inside. He loves sharing his tidy home with his friend Spider. Spider loves the outdoors!

When Spider's kite flies away, Bear must venture out and into the messy forest to help his friend.

As their quest in the forest goes from bad to worse, Bear and Spider show readers that being a friend means being there for each other, no matter what.
About the Author
---
Jacob Grant is originally from Ohio, but now lives with his wife in a very windy city in Illinois. Day and night he can be found in his home studio drawing, painting, and writing until something feels story-ish. His debut picture book, Scaredy Kate, was released in 2014. Jacob tries not to use bad words around any little animals.
Praise For…
---
"Grant's soft, muted crayon-and-ink illustrations, full of rounded shapes, complement the warm comforting tone of the story . . . A cozy tale of friendship and compromise between two very different creatures." —Kirkus Reviews

"The humor here is gentle and diverting, and kids will find the surprisingly expressive Spider. . . especially charming." —BCCB

"With its spare text and large, easy-to-view illustrations, this read-aloud about compromise and companionship will resonate with children." - Shelf Awareness

"Resonates with timely themes of tolerance, friendship, and persistence." —Publishers Weekly

"This affirming story of friendship includes themes of kindness and perseverance, subtly promoting an appreciation of the outdoors." —Booklist Online

"Children will absorb the valuable message that compromise is essential to any good friendship and when the going gets tough, buddies still stick together." - School Library Journal online

"Grant's friendship story will catch readers like flies with its artwork and gentle humor, while encouraging them not to make assumptions about others." —Booklist on BEAR'S SCARE

"This tale about friendship and overcoming prejudices . . . will be enjoyed at storytime and as a subtle introduction to accepting others." —School Library Journal on BEAR'S SCARE

"Ideal for beginning readers. A sweet, feel-good story with plenty of interesting visual detail." —Kirkus Reviews on BEAR'S SCARE

"Will make readers smile." —Publishers Weekly on BEAR'S SCARE

"Goat is the star of this visual show. Like Mo Willems's Pigeon, his whole internal process shows in his eyes. Everyone can relate to the need to grow, and the appreciation for familiarity. A lovely storytime selection for larger collections." —School Library Journal on THROUGH THE ZOO

"Goat's big eyes telegraph his emotions with gentle humor, and the muted colors and gauzy textures of Grant's illustrations underscore a sense of empathy that extends to readers (and parents) caught between growing independence and the recognition that everyone needs a hug now and then." —Publishers Weekly on THROUGH THE ZOO

"While this is an easy pick for a cat or crafting storytime, the word repetition and short, simple sentences also puts this within the reach of beginning readers. For all audiences, the final scene in which poor Cat has now acquired two new Yarn friends will incite a riot of giggles." —BCCB on CAT KNIT

"The simplicity of the story is matched by graphically crisp illustration that captures cats' well-known fascination with bright balls of yarn, as well as the comfort that everyday objects bring, a message little listeners will instinctively understand . . . Will bring smiles along with the message that, though friends might change, they can still remain close to you if you give them a chance." —Booklist on CAT KNIT

"Offers a comical and gently didactic contribution aimed at an even younger child, with the tale of a little bird who stumbles into the charged realm of curse words thanks to his dad." —The New York Times Book Review on LITTLE BIRD'S BAD WORD

"A charming, tender and ever pertinent life lesson." —Kirkus Reviews on LITTLE BIRD'S BAD WORD