Life in a Frozen World (Revised Edition): Wildlife of Antarctica (Paperback)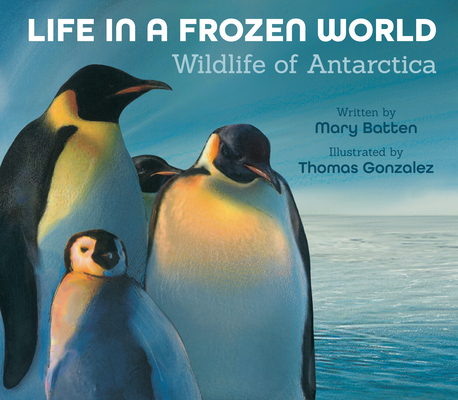 Description
---
Award-winning nature writer Mary Batten uncovers the climate change mysteries of our planet's coldest, most extreme environment—Antarctica.

Did you know that Antarctica could be the key to long-standing questions about the Earth and climate change? Though it seems very far away from us at the bottom of the world, this frozen continent affects weather, ocean currents, and sea levels all over the Earth. Its wildlife survives—and even thrives—on ice. And in the long run, so do we.

From award-winning, experienced nature writer Mary Batten comes a remarkable nonfiction picture book that plumbs the mysteries of one of the most hostile environments on the planet. With clear, engaging language, Batten explores fascinating questions that scientists the world over have been researching.

In the intensely cold, windy, and dry environment of Antarctica, how does a wide variety of wildlife survive? How do some species of Antarctic fishes make a natural antifreeze that prevents their blood from freezing solid? How does a forest of giant seaweed flourish under the sea when no other trees grow on the continent? Antarctica's creatures are exquisitely adapted to their extreme habitat, but can they survive warmer waters and atmosphere?

An ideal resource for young science lovers and educators, this informative volume is perfect for classroom units on climate change, conservation, ecology, environment, nature, oceanography, and more.
About the Author
---
Mary Batten is an award-winning writer for television, film, and publishing. Her many writing projects have taken her into tropical rainforests, astronomical observatories, scientific laboratories, and medical research centers. She is the author of numerous articles on science topics as well as a number of children's books. Batten was nominated for an Emmy for her work on the Children's Television Workshop's science series 3-2-1-CONTACT. In the 1990s she worked with The Cousteau Society, where she acquired a lifelong love of the ocean.

Thomas Gonzalez is an illustrator, designer, and portrait artist. A native of Cuba, Gonzalez came to the United States when he was ten years old. He studied at the Atlanta School of Art (now called Savannah College of Art and Design). After working at the Coca-Cola Company for more than twenty years, Tom held several creative positions with other global brands.