The Grudge Keeper (Paperback)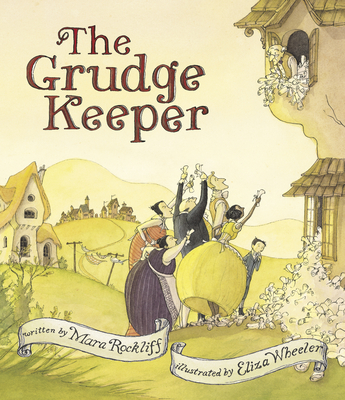 $7.99

Coming Soon - Available for Pre-Order Now
Description
---
No one in the town of Bonnyripple ever kept a grudge. No one, that is, except old Cornelius, the Grudge Keeper.
The citizens of Bonnyripple count on Cornelius to file away their tiffs and huffs, squabbles and snits, and keep the picturesque town a pleasant place to live. But when a storm flings the people together and their grudges to the wind, will the Grudge Keeper be out of a job?
Readers will delight at the lyrical text and the hilarious expressions on each character's face as they learn the truth about keeping grudges. This timely and entertaining story about the value of forgiveness is beautifully conveyed through Rockliff's witty wordplay and Wheeler's elegant illustrations.
About the Author
---
Mara Rockliff has ridden an elephant, swallowed fried grasshoppers, lived on a commune, flown a hang glider (and crashed), peered into a live volcano, hiked up a glacier and alarmed a moose, and driven a hundred-year-old car (and DIDN'T crash!). She is the author of many lively books for children. She lives in Massachusetts with her family and a small, yappy pet peeve

Eliza Wheeler grew up in Wisconsin in a family of teachers, musicians, and artists and received a degree in art and design from the University of Wisconsin-Stout. She is the bestselling illustrator-author of Miss Maple's Seeds and was a recipient of the prestigious Sendak Fellowship.
Praise For…
---
"Wheeler's (Miss Maple's Seeds) sure hand and lyrical pen-and-ink spreads are the source of this story's charm. Long skirts billow, the fairy-tale cottage of Cornelius the Grudge Keeper leans sweetly to one side, and the white scraps of paper on which villagers have written their grudges billow and drift like sea foam."—Publishers Weekly

"This is an especially attractive picture book. . . Wheeler's eye-catching cartoon drawings are busy with activity and whimsical detail that adds fullness to this simple, pleasant tale, and Rockliff's telling is sprightly. This book will resonate most with teachers and adults looking to share stories about the value of forgiveness."—School Library Journal

"Rockliff's wordplay is a joy, while Wheeler's Dickensian group of scowlers is pleasant to watch–even when they get happy."—Booklist

★ "Rockliff has created a clever fable characterized by ornate language, extraordinary characters and billowy atmosphere. . . . Wheeler's strong, witty ink-and-watercolor illustrations combine with the text to humorously demonstrate that "holding a grudge" is a bad thing."—Kirkus Reviews, Starred Review