The Worst Book Ever (Hardcover)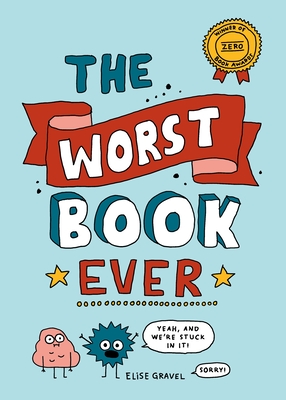 $17.95
Usually Ships in 1-5 Days
Description
---
Elise Gravel wants to write a totally drab book; her characters want to let loose. Who's gonna win?

Don't take the title as a metaphor: it really is the worst book ever. The winner of the Governor General Literary Award and children's book author and illustrator Elise Gravel takes readers on an unexpected journey through the world's most boring book in The Worst Book Ever. The characters and omniscient readers alike quickly become annoyed by the author's bland imagination and rebel against her tired tropes and stale choices, spouting sass in an attempt to get her attention and steer the narrative in a more interesting direction. After all, you don't even have to buy the book, but the characters? They're stuck in there for an eternity, and they're going to do their best to make the most of it, or at least have a little fun when they can.

As the charming and bizarre true nature of the characters overpowers the dry attributes given to them by the author, this once blasé story quickly picks up speed, transforming into something much more unique than originally promised. With Gravel's signature goofy characters behind the wheel, no silly twist or rude body function is off the table.
About the Author
---
Having completed her studies in graphic design, Elise Gravel found herself quickly swept up into the glamorous world of illustration. She is the author and illustrator of Jessie Elliot Is a Big Chicken. Her old design habits drive her to work a little text here and there into her drawings and she loves to handle the design of her assignments from start to finish. She is inspired by social causes and is turned on by projects which can handle a good dose of eccentricity. She lives in Montreal.
Praise For…
---
"A laugh-out-loud comic with intentional spelling mistakes, rudimentary drawings, an idiotic sexist hero, and a Greek chorus of blob-like monsters that introduces young readers to literary criticism."—Quill & Quire, best of 2019

"Discerning readers of any age should find plenty to like about The Worst Book Ever, which is, in actuality, the very best kind of worst book —the kind that is actually secretly good."—School Library Journal

"A fourth-wall-breaking showcase of picture book "don't"s... an intentionally dull fairy tale [introduced] with great skepticism."—Publishers Weekly

"The characters in Elise Gravel's book The Worst Book Ever positively hate the journey she's taking them on. Sick of the boring adventure and tired character tropes, they decide to take matters into their own hands."—CBC Books

"Young readers, and all seekers of comic relief, should investigate Elise Gravel's laugh-per-page The Worst Book Ever, a meta exercise in creating exactly what its title claims."—The Montreal Gazette

"A clever, ingenious author's "wurst" work yet."—Kirkus Reviews

"Elise Gravel has managed to cram a host of problems into one short book, and then points them all out for the reader. It's cute and funny, but it also helps readers to be more explicitly aware of the messages we're presented with in other stories, which I think is a valuable lesson."—Geek Dad