The Iron Hand (Three Thieves) (Paperback)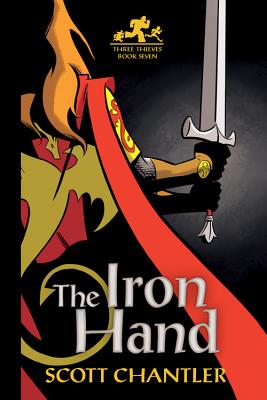 $7.95
Usually Ships in 1-5 Days
Description
---
All the pieces finally fall into place in this action-packed finale to the Three Thieves graphic novel series. Now that Dessa has learned the truth about her past, she agrees to form an alliance with the badly injured Captain Drake against Greyfalcon. The pair travel together to the royal city to rescue Dessa's twin brother, Jared, from Greyfalcon's evil clutches and put Jared in his rightful place on the throne. But their plans go awry when they arrive to find Jared already on the throne! And it's nowhere near the joyful reunion one might expect --- instead, Dessa is captured and thrown into the dungeon! It's clear her brother is in no position to come to her aid, so she needs to find another way out. The three thieves have pulled off a number of tricky escapes together, but this time Dessa's on her own ... Or is she?

The conclusion to Scott Chantler's thrilling, suspenseful and masterfully told fantasy-adventure series is sure to satisfy, as loose ends are tied and vexing questions get answered. The fast pace continues right to the end, with new twists and turns and some shocking revelations, while the characters' wit and humor continue to shine through. The high-voltage drama and bold illustrations make the books in this award-winning series popular reads, even while the complexity of the multiple plotlines enhances problem-solving and critical-thinking skills. And with so many clues cleverly revealed in the details of the artwork, these books are also terrific for developing visual literacy.
About the Author
---
Scott Chantler is an award-winning cartoonist. He lives in Waterloo, Ontario.
Scott Chantler is an award-winning cartoonist. He lives in Waterloo, Ontario.
Praise For…
---
... The Iron Hand successfully ties together all loose ends of the series, while inserting some delightful surprises along the way.—Resource Links

Chantler continues to tap the emotional vein that has been the saga's quiet, invaluable strength ...—Booklist, starred review

A well-wrought, well-timed, and satisfying finale to this well-conceived series.—Kirkus Reviews