What's That, Jack? (Hardcover)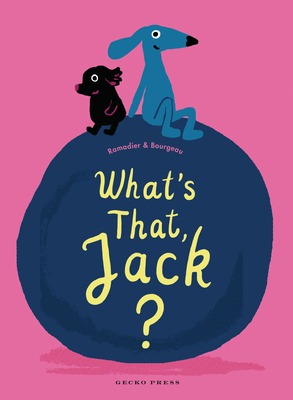 $18.99

Coming Soon - Available for Pre-Order Now
Description
---
A fun read-aloud picture book to spark imaginative play and have preschoolers joining in with delight.
Jack and George are resting quietly when BOOM A huge and strange ball lands beside them.
"What's that, Jack?" "I don't know, George. Maybe it's a rock?" No--too soft. But it rolls. Fast Jack, George and the ball roll right off the cliff and now it's a parachute. But watch out, they're going to land in the river...

Jack and George have a brilliant day full of adventure with this object that changes with the landscape, then turns into a blanket to keep them warm.
This bright and funny book is a game of twists and turns, with a joyful refrain and vivid artwork to capture every toddler's imagination. With thick, rounded-edge paper and a hardback cover, little hands can easily help turn the pages at storytime.
This book encourages interactive reading by inviting toddlers and preschoolers to join in with the energetic catchphrase, "I don't know, George " as call and response on every page.
C dric Ramadier studied at the Camberwell College of Arts in London, before moving to Paris to work as an art director, graphic designer, editor, and author. He has written a number of popular French children's books. Vincent Bourgeau lives in Marseilles, France, where he works fulltime as a children's book illustrator. Together they have published nearly 50 children's books.
Translated from the French edition by Antony Shugaar.
Praise for What's That, Jack?
"Will inspire youngsters to embrace uncertainty--and adventure."--Kirkus Reviews
Praise for Help The Wolf is Coming
"The interactive element is a rush that's sure to elicit squeals, shrieks, and many, many repeated readings."--Booklist
"The fun kids will have tilting, turning and shaking the book as they try to tumble the approaching wolf off a cliff."--New Zealand Herald