Cinderella--with Dogs! (Hardcover)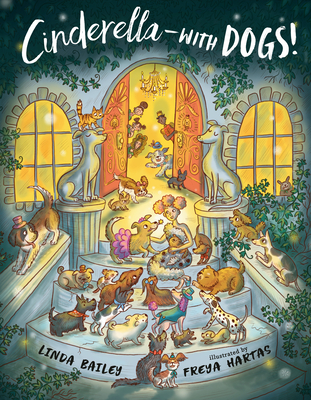 Description
---
A hilarious picture book featuring a dog-loving kingdom and the most fabulous, far-out fairy DOGmother ever!

Here is a Cinderella story like no other. When Cinderella wishes for a fairy godmother, she's not expecting one that barks! And this fairy dogmother has a different agenda. Yes, Cinderella will have a new dress, but made of a cozy dog blanket. Yes, they will go to the ball, but they will run there and chase squirrels along the way. There's nothing like a canine companion to get a girl out of the house and her mind off her troubles! Yes, indeed, dogs do make everything better—and are a reminder that you don't need "happily ever after" when you have the joy of now. Readers will get a kick out of this retelling with its lovable cast of characters and refreshing ending.

About the Author
---
Linda Bailey (lindabaileybooks.com) is the author of more than thirty-five books for children. Her picture books and novels have been published all over the world and have won multiple awards across North America, including the California Young Readers Medal, the Ontario Blue Spruce and Silver Birch Awards, the Arthur Ellis Crime Writers Award, and the Georgia Picture Book Award. Linda lives in Vancouver, British Columbia, close to the sea.

Freya Hartas (freyahartas.co.uk) is a UK-based illustrator of children's books. She lives in the vibrant city of Bristol with her partner and their ancient black cat Katsu and works from her cozy, cluttered desk in a shared studio down the road. Upon graduating from Falmouth University with a BA in illustration in 2014, Freya won The Roald Dahl Funny Prize Award. Freya would probably consider herself more of a cat person, but she very much enjoyed drawing all the silly dogs in this book!

Praise For…
---
"Who doesn't love a good "furry tail"? . . . 'Cinderella' details get 'doggified,' and the ball ends up being a howl in more ways than one. Spoiler alert: There's a twist on the glass-slipper-leading-to-marriage ending. Not to worry. This one's much better—and involves squirrels. This rollicking story will arouse plenty of giggles as young readers enumerate the ways in which it veers from the original. Adults can encourage little ones to think of how 'Cinderella' might work with other animals subbing in for the fairy godmothers. The imaginative, colorful digital illustrations burst with energy and expressiveness. . . . The brown, floppy-eared, tutu-wearing dogmother is adorably memorable. A barking good time will be had by all." —Kirkus Reviews

"Although the jaunty text ruff-ly follows the traditional tale, in the end, Cinderella exhibits independence with a prince she likes but doesn't know well enough to marry. Cheery, cartoonish illustrations lend to the cleverness in this feminist, fractured fairy tale." —Booklist

"Something gets hilariously lost in translation in Bailey's fairy tale retelling, in which a cat lady Cinderella makes a wish for a fairy godmother and instead gets a pink-tutued fairy dogmother ('WOOF!'). . . . Additional humor abounds in Hartas's depictions of Cinderella's multiple cats and the exuberant pack of palace pooches who bowl Cinderella over with kisses." —Publishers Weekly