Harrow Lake (Paperback)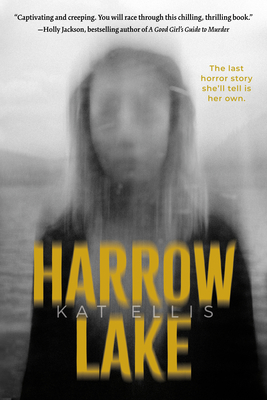 Description
---
A must-have horror/thriller that will keep you gripped, keep you guessing, and keep you up all night.

"A captivating and creeping mystery full of brilliantly twisting turns and dark secrets. You will race through this chilling, thrilling book." --Holly Jackson, bestselling author of A Good Girl's Guide to Murder

Lola Nox is the daughter of a celebrated horror filmmaker--she thinks nothing can scare her. But when her father is brutally attacked in their New York apartment, she's quickly packed off to live with a grandmother she's never met in Harrow Lake, the eerie town where her father's most iconic horror movie was shot. The locals are weirdly obsessed with the film that put their town on the map--and there are strange disappearances, which the police seem determined to explain away.

And there's someone--or something--stalking her every move.

The more Lola discovers about the town, the more terrifying it becomes-- because Lola's got secrets of her own. And if she can't find a way out of Harrow Lake, they might just be the death of her.
About the Author
---
Kat Ellis studied English with Creative Writing at Manchester Metropolitan University before going on to work in local government communications. She now writes young adult fiction full-time and, when she's not writing, can be found exploring ancient ruins, watching horror movies, and spoiling her cats.
Praise For…
---
"Atmospheric and chilling, Harrow Lake plumbs the depths of horror." —Mindy McGinnis, author of The Female of the Species

"You're going to want to read this one with all the lights on." —Cat Winters, author of In the Shadow of Blackbirds 

"A sympathetic, quick-witted heroine [who] at first refuses to be terrified[, in] a sinister story that slowly builds to a heart-pounding climax." —Kirkus 

"A thrilling mindbender; the scare factors are executed with just the right amount of flair, indulging in a bit of campiness only to pull back for some true terror. Lola is intriguing as a distrustful, prickly girl who both hates and yearns for her distant father, and she's easy to root for . . . Particularly satisfying." —BCCB

"A captivating and creeping mystery full of brilliantly twisting turns and dark secrets. You will race through this chilling, thrilling book." —Holly Jackson, author of A Good Girl's Guide to Murder

"Ellis brings the claustrophobia of pulp fandom front and centre in this masterpiece of a novel" —Dawn Kurtagich, author of The Dead House

"A gripping tale that keeps readers turning the pages." —SLJ

"When you start Harrow Lake, be prepared to put everything else on hold. Lola is a total badass, a teenage main character you will root for, and Kat Ellis pulls you alongside her at a breakneck speed." —Ann Dávila Cardinal, author of Five Midnights

"Eerie storytelling and [a] thrilling backdrop . . . Hand to fans of Kate Alice Marshall's Rules for Vanishing." —Booklist

"Wonderfully creepy and atmospheric, with an unforgettable boogeyman bound to give you jittery nightmares—when you can finally fall asleep." —Emma Berquist, author of Devils Unto Dust