Maya and the Robot (Paperback)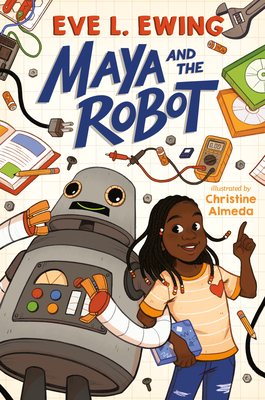 Description
---
From award-winning author Eve L. Ewing comes an illustrated middle grade novel about a forgotten homemade robot who comes to life just when aspiring fifth-grade scientist Maya needs a friend -- and a science fair project.

Maya's nervous about fifth grade. She tries to keep calm by reminding herself she knows what to expect. But then she learns that this year won't be anything like the last. For the first time since kindergarten, her best friends Jada and MJ are placed in a different class without her, and introverted Maya has trouble making new friends.

She tries to put on a brave face since they are in fifth grade now, but Maya is nervous! Just when too much seems to be changing, she finds a robot named Ralph in the back of Mr. Mac's convenience store closet. Once she uses her science skills to get him up and running, a whole new world of connection opens up as Ralph becomes a member of her family and Maya begins to step into her power. In this touching novel, Eve L. Ewing melds together a story about community, adapting to change, and the magic of ingenuity that reminds young readers that they can always turn to their own curiosity when feeling lost.
About the Author
---
Eve L. Ewing is the award-winning author of Electric Arches, 1919, and Ghosts in the Schoolyard. She also wrote the acclaimed Ironheart and Champions series for Marvel Comics. Her work has appeared in many venues, including the New York Times, the New Yorker, the Washington Post, and Vanity Fair. Born and raised in Chicago, she was a middle school teacher before completing her doctorate at the Harvard Graduate School of Education. Currently she is an assistant professor at the University of Chicago School of Social Service Administration.

Christine Almeda is a Filipina American freelance illustrator, character designer, and lover of sunshine. She graduated from Montclair State University with a BFA focused on character design and children's media. She believes in the power of creativity, diverse storytelling, and that art can make life more beautiful. Learn more at christinealmeda.com or connect with the illustrator @eychristine.
Praise For…
---
PRAISE FOR MAYA AND THE ROBOT

A School Library Journal Best Book of 2021
FOUR STARRED REVIEWS 

"A... positive lesson in bravery, intelligence, and friendship." --Booklist

*"A warm, unforgettable story about following your passions and being yourself." --Kirkus, starred review.

*"A heartfelt title that seamlessly brings tech and creativity to a tween audience with delightful characters and gentle humor."
–-Ashleigh Williams, School Library Journal, starred review.

*"Not only is this story about using one's curiosity and ingenuity to get through a tough time, it's also about the power of community. Christine Almeda's... winning illustrations and relatable topics make Maya and the Robot significant and meaningful." --Lana Barnes, Shelf Awareness, starred review.

*"Interspersed with charming, animation-style b&w illustrations by Almeda, Ewing's tender-hearted middle grade debut wholly conveys the strength it takes to come out of one's shell, the thrill of discovery and creation, and the power of pursuing wonder." –-Publishers Weekly, starred review.

"[T]he perfect read for kids who need a push to pick up a chapter book. Highly illustrated and easily relatable, Maya and the Robot combines friendship struggles, teacher problems, and yes, science...." -- NPR.org
 
"With heart, humor, and ultimately hope, Maya and her beloved robot remind us that even in the most difficult times, there is light on the path... and friendship makes it that much more visible."
--Nic Stone, #1 New York Times bestselling author of DEAR MARTIN

"'Maya and the Robot,' a delightful tale by Eve L. Ewing, champions young people's interest in technology and the world of science fairs…Animated by Christine Almeda's engaging illustrations, it all makes tech and science seem cool, fun and accessible. And the message, to me at least, is clear: Young readers, don't be daunted by technology and science." -- The New York Times Book Review