girl stuff. (Paperback)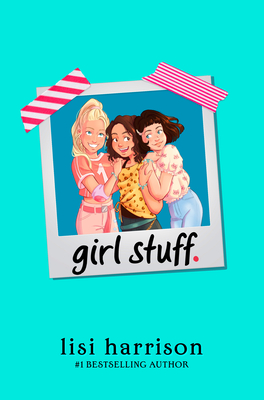 Description
---
A new paperback series where girls help each other tackle issues of friendship, crushes, and new experiences. Perfect for fans of The Baby-Sitters Club, Real Friends, and Invisible Emmie—it's all about being true to yourself!

Fonda, Drew, and Ruthie have been besties forever, but seventh grade is going to be their year! The girls can't wait to do everything together and have an amazing time doing it.

But then…



Ruthie realizes that being in Talented and Gifted means being in a different part of the school. There go their stuck-together-like-glue dreams.
Drew's crush--who seemed so into her like a week ago--suddenly acts like he doesn't know her. And now he's all she can think about.
Fonda's finally being noticed by the popular girls, but can she really hang out with them if Ruthie and Drew aren't invited?

There's nothing like seventh grade to test the bonds of friendship. Fonda, Drew, and Ruthie are about to find out how much it stinks to be lied to, to be left out, and to feel like you're the only one who cares. But they'll also find out how meaningful female friendships are, and how great it feels to be yourself.

Get ready for the most meaningful, most fun stuff of all: girl stuff!

About the Author
---
Lisi Harrison worked at MTV Networks in New York City for twelve years before writing the #1 bestselling Clique series. That series has sold more than eight million copies and has been on the New York Times bestseller list for more than two hundred weeks, with foreign rights sold in thirty-three countries. Alphas was a #1 New York Times bestseller, and Monster High was an instant bestseller. She is currently adapting her Pretenders YA series into a narrative podcast for Spotify and writing a new middle-grade series called The Pack. Lisi lives in Laguna Beach, California, and is either working on her next Girl Stuff novel or hiding in the pantry eating chips.
Praise For…
---
Praise for girl stuff.

"The writing is funny and will land well with a tween audience, as will the theme of shifting friendship. . . This will hit a sweet spot for tweens." —Kirkus Reviews

"This is a perfect example of the types of problems that most of my readers like to see reflected in books. Books like Girl Stuff take no hand selling whatsoever; I just need to put them on a front facing display, and they are immediately picked up." —YA Books Central