Wonder: La historia de Julián / The Julian Chapter: A Wonder Story (Paperback)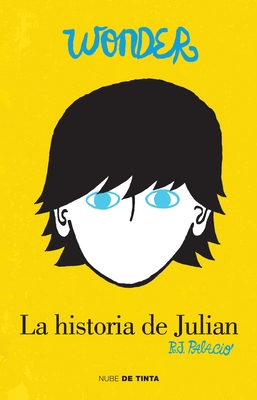 Description
---
¿Qué motivos tiene Julian para odiar a August? ¿Será capaz de asumir sus errores y empezar de nuevo?

WONDER. La lección de August ha recordado a miles de lectores la importancia de ser amable. Pero este no es un libro sobre August, un niño que quiere ser normal a pesar de su aspecto.

Esta es la historia de Julián, el niño que peor se porta con él. No soporta verlo, no soporta que sea amigo de Jack, no soporta que esté en su colegio... y no es capaz de darse cuenta del impacto que sus actos pueden tener en los demás.

Provocadora, sorprendente y emotiva, La historia de Julián deleitará a los lectores de WONDER. La lección de August... y a quienes todavía no la han leído.

ENGLISH DESCRIPTION

From the very first day Auggie and Julian met, it was clear they were never going to be friends, with Julian treating Auggie like he had the plague. Over one million people have read Wonder and have fallen in love with Auggie Pullman, an ordinary boy with an extraordinary face. Now readers will have a chance to hear from the book's most controversial character: Julian.
About the Author
---
Mientras R. J. Palacio se dedicaba a diseñar preciosas cubiertas para cientos de autores, soñaba con escribir una novela algún día. Sin embargo, le parecía que nunca llegaba el momento hasta que se dio cuenta de que lo único que tenía que hacer era empezar. Wonder. La lección de August, su primera novela, se convirtió en un fenómeno mundial que ha inspirado a más de un millón de personas. A este título le siguieroin Wonder. La historia de Julián, Wonder. El juego de Christopher y Wonder. Charlotte tiene la palabra.

Cuando Palacio decidió escribir El libro de preceptos del señor Browne, pidió ayuda a sus lectores: en dos semanas, había recibido más de mil postales con preceptos procedentes de todo el mundo.