Hena Khan Virtual Author Visit Mecca Center on April 24th
Order your autographed* Hena Khan books today!
*signed bookplate
When ordering Hena Khan's books from her April 24th visit; please enter "Mecca Center" in the required School Name field and "Willowbrook" in the School City field at checkout. If you would like to pick up your order at The Mecca Center after the event, please check the box that asks for the order to "
---
Purchase Hena Khan's Newest Book

$17.99
ISBN: 9781534459885
Availability: On Our Shelves Now
Published: Salaam Reads / Simon & Schuster Books for You - March 9th, 2021
Other Titles by Hena Khan (below)
---
$8.99
SKU: 9781534469464VAV
---
$6.99
SKU: 9781534411999VAV
---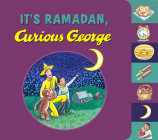 $7.99
ISBN: 9780544652262
Availability: On Our Shelves Now
Published: HMH Books for Young Readers - May 3rd, 2016
---

$7.99
ISBN: 9781452141213
Availability: On Our Shelves Now
Published: Chronicle Books - March 3rd, 2015
---